"A child gives birth to a mother,
much before a mother gives birth to her child.
Birth isn't just about making babies. It is about making mothers too. The transition from womanhood to motherhood is a beautiful feeling, one that will be cherished forever. "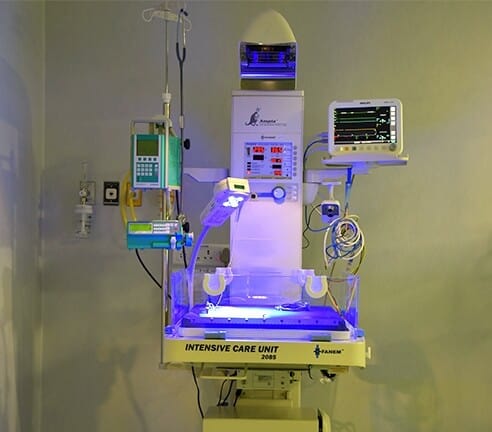 The term 'neonatal' means 'newly born', and the babies are referred to as 'neonates'.
Neonatal care is the period of infant care lasting up to 28 days post birth, and can extend beyond this period in cases of special intensive care.
In cases of emergencies or special intensive care, most hospitals lack neonatal facilities and hence, have to rush the new born to another medical centre. At B&B, we have taken every aspect into consideration, and are thereby well-equipped to handle such cases with our very own in-house neonatal facility. Our advanced equipments not only facilitate timely medical attention, but also ensure that the mother and child do not have to separate, come what may.
With a state-of-the-art infrastructure, our NICU boasts of the latest Intensive Care Nursery and incubators, fully equipped with Blood pressure monitors, Phototheraphy units, defibrillators, baby warmers and ventilators. We have gone the extra mile to ensure that the parents can keep a watch on their infant anytime and from anywhere, by introducing NICU beds equipped with exclusive cameras for each bed. With our experienced paramedics providing round-the-clock and individual care for each infant, rest assured your baby is in safe hands. The infants are kept under constant observation and regular updates and provided to the assigned doctor as well as the parents. All the necessary equipment is available within the center, so the infant is ensured timely medical intervention and treatment.
State of the art facility
Individual fully equipped Intensive care units
Phototherapy Units
24x7 care and observation
Individual NICU Bed cameras
Expert staff